ALPOLIC Metal Composite Material (MCM) Leaves Provide Shade in Elementary School Courtyard
ALPOLIC stands for quality, precision...and now whimsy. As we get back to school this season, students at James R. Watson Elementary School in Auburn, IN have some new installations in their courtyard to enjoy. The school required maintenance-free shade fixtures and took the opportunity to add to the children's imaginations with a playful concept. TFC Canopy was hired to help make these shade trees a reality and knew ALPOLIC was the right solution.
"We have never fabricated anything like this in the past, but once we saw and heard the concept, we knew it was tailored to what our company does best," said Jeremy Patterson, architectural sales representative with TFC Canopy/ Centurion Ind. "We used our full team to create this design, structural steel designers, engineers, architectural wall panels detailers, canopy project and construction managers, canopy installers, and quite a few different departments on our fabrication floor."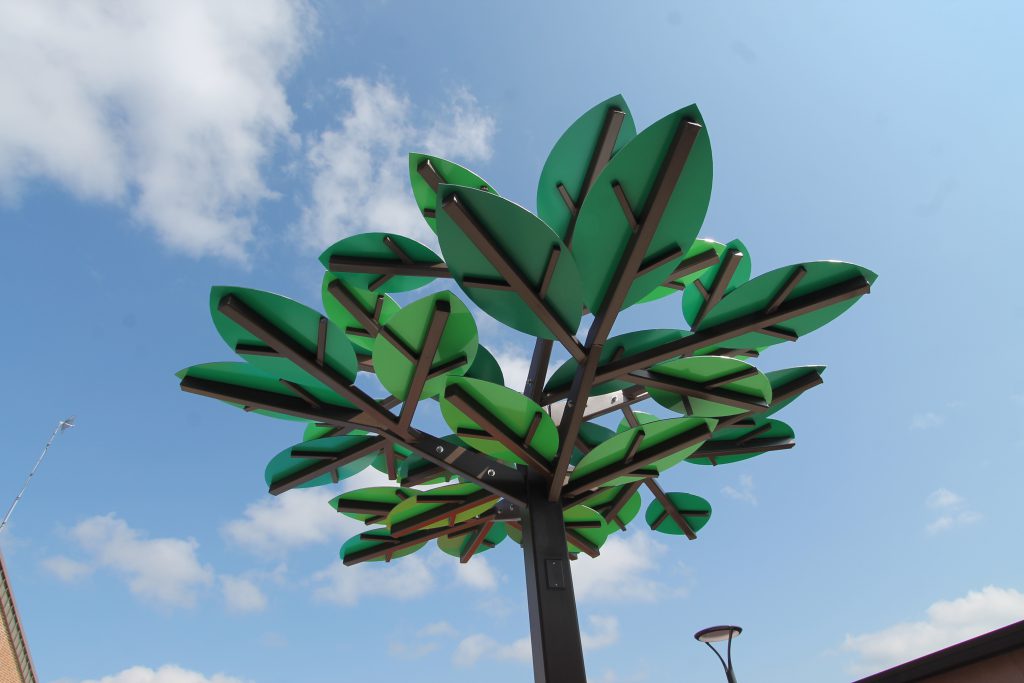 Over 500 square feet of ALPOLIC in GRV, TDR and BGN Green panels were fabricated into canopy leaves, supported by a structural steel frame. The project was a part of a remodel of the courtyard to improve functionality and cut down on maintenance. Led by architectural firm Barton Coe Vilamaa and general contracting services from FCI, the new courtyard is a singular success and will be enjoyed by the nearly 600 students from kindergarten through fifth grade.
Patterson is an avid user of ALPOLIC because it delivers innovative solutions for inspirational design. "We handle all design-build projects with the idea of how we can use the most ACM. We know how versatile this product is and our goal is to showcase it in every way we can think of and to push the boundaries on what it can achieve." Complex forms are possible in the hands of veteran fabricators like TFC. "There are not many ACM Fabricators that have the flexibility and capabilities that we do. The options are endless with the level of customization we can do especially with a project like this to make it unique and one of a kind."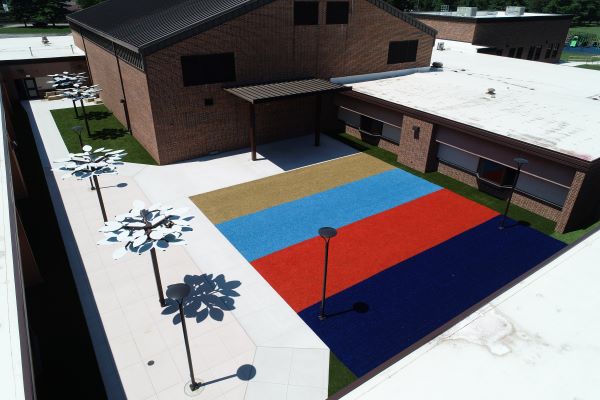 We celebrate the projects – both big and small—that showcase how adaptable MCM is used to bring a vision to life. The simple shade trees at JR Watson are an incredible example of the nearly limitless design possibilities with metal composite materials from ALPOLIC.

Content courtesy of ALPOLIC Metal Composite Materials/Mitsubishi Chemical