LEED
TFC actively supports environmental responsibility. The raw materials used in the ALPOLIC® panel products have been selected to maximize the use of recycled content. The coating and laminating lines are designed to make the most efficient use of energy and to comply with all regulations and codes relating to environmental quality.
The use of ALPOLIC® products may contribute to the following credits:
1. Highly Durable or Innovative Finishes:
LEED Credits ID 1.1 - 1.4
ALPOLIC® is finished with Lumiflon-based fluoropolymer paint as standard, a paint known for its durability. The long-lasting color and gloss help reduce long-term maintenance costs and material consumption. In addition, the paint is applied using a continuous coil coating process, which gives ALPOLIC® a finish that is consistent as well as durable. In comparison with a competing polyester coating that has reportedly been recently improved, Lumiflon-based fluoropolymer coating still appears to be superior.
Comparision of Durability between high-performance polyester and Lumiflon-based fluropolymer coatings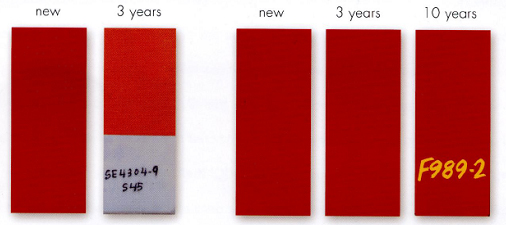 In addition, by selecting an appropriate finish, solar reflectance can be improved, which can increase the heat efficiency of the building. Every color on our color charts include an LRV (light reference value) to assist in making an informed decision. For these reasons, ALPOLIC® will possibly contribute to LEED Credits ID 1.1 - 1.4.
2. Recycled Content: LEED Credit MR 4.1 and 4.2
Virgin aluminum requires a large amount of electricity for smelting. However, approximately 70% of virgin aluminum is recovered and reused. This aluminum requires only 5% of the electricity of virgin aluminum. We use aluminum alloy 3105 for ALPOLIC®. This alloy contains high levels of recycled content.